5 REASONS WHY YOU SHOULD START A NATURAL HAIR JOURNEY!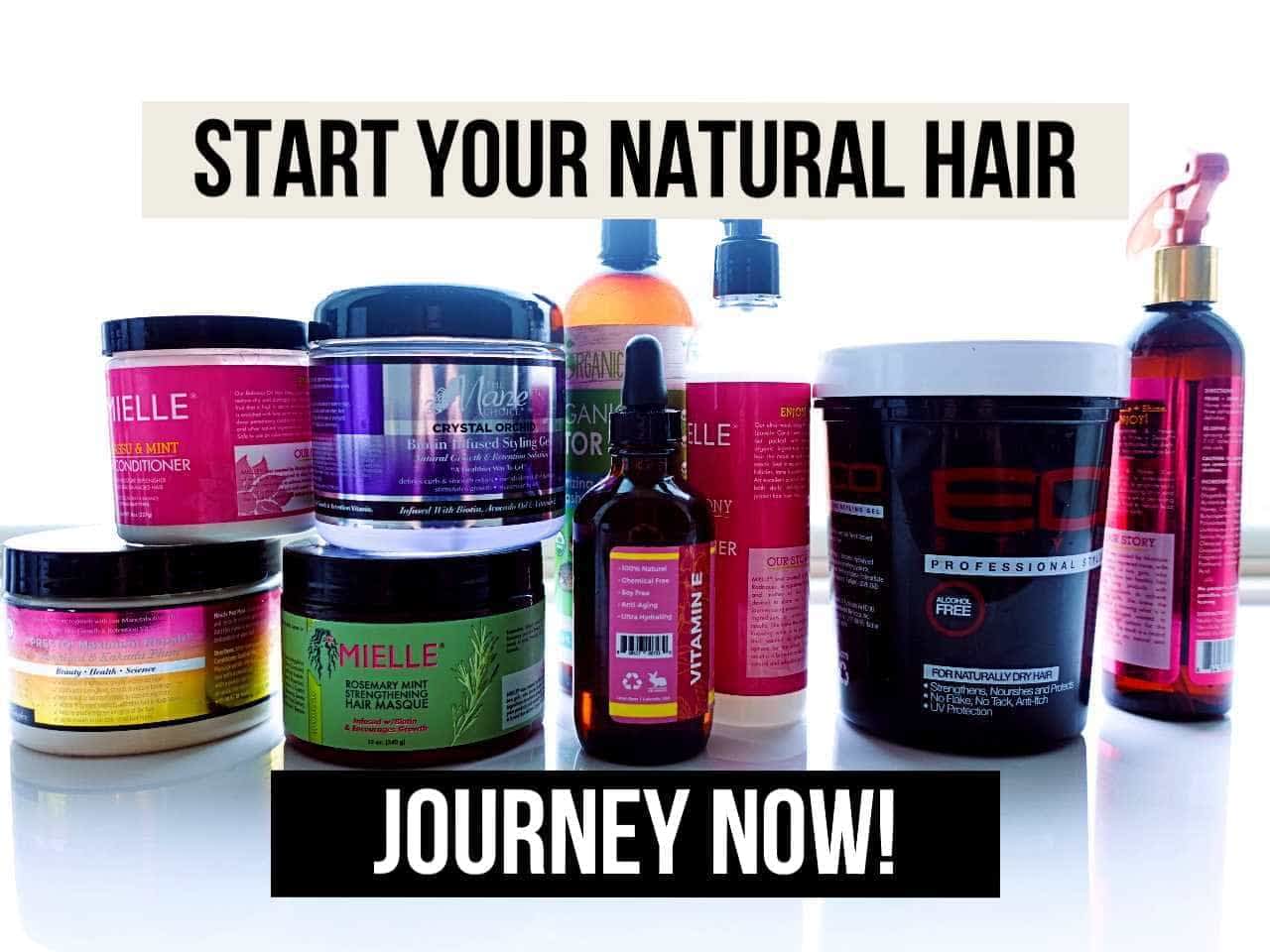 Hey you! Are you thinking of going natural? The natural hair community is so big, and it has become a real movement. It can be challenging to find the strength to go natural, but once you do, your life changes! You probably clicked on this article because:
You are interested in starting a natural hair journey, but you are a little scared and looking for support.
You already started your hair journey, and you feel stuck.
You want to open a natural hair journey business!
You are curious about natural hair.
You are in the right place! We are here to help you in your journey and hope you succeed in whatever you decide to do after reading this article!
Going natural is a significant moment in someone's life! Especially if you've never been natural before, you are in for a significant change! Are you looking for a boost of confidence? Do you need to discover yourself? Being natural might be what you need.
If you've been natural before or if you plan on starting your journey soon, leave a comment on this article! We would love to share your fantastic experience with our community.
Before we move forward with 5 reasons why you should go natural, let's explain what being natural is.
Being on a natural hair journey can mean many things. For this article's purpose, we will define a Natural Hair Journey as below:
No longer using chemicals to change your hair type permanently. In other words, Bye Bye harmful chemicals and relaxers.
To avoid confusion, we are not talking about the food you eat or how much makeup you wear! Nope! We are talking about stopping the use of harsh hair chemical products! They are toxic and dangerous for your scalp, skin, hair, and health.
Great, now that we know what being natural is, let's talk about the 5 reasons you should start a natural hair journey. 
1. YOUR HAIR WILL BE HEALTHIER
Yes, it will! A hair journey always starts with a "Chop" which means that whether you decide to do the big chop or cut relaxed ends, your hair will be healthier. Why? Because you will start by removing all the split ends and damaged hair. Now we recommend that you use professional tools if you decide to chop your hair!
Since you won't be using any harsh chemicals anymore, your hair will be healthier. Your hair will be able to grow in its natural state. Since you will have a new hair texture, you will also have to teach yourself how to take proper care of your hair. Just know that it might become a passion! Starting a natural hair journey may also push you to work out more and eat better!
Your hair and scalp will also be healthier because you'll have to take care of your scalp. Yup! You will massage your scalp and treat your hair like gold! So you will be using oils and specific lotions that will heal your scalp and hair.

2. YOU WILL DISCOVER A NEW YOU!
Discovering the New You is one of the greatest reasons why you should go on a natural hair journey. Little by little, you'll see that your hair will change the way that you think! You might want to give hair advice to your friends.
A lot of women and men that go natural build self-confidence along the way. They have specific hair goals to reach, and when they do, they gain self-confidence! We all love self-confidence boost. Now, remember that going natural takes a lot of time and a lot of patience.
Another thing is that when people go natural. There is always a time when they regret and want to go back. If you get to that point, just keep pushing through, and you will be proud that you didn't go back to these destructive chemicals. This phase is going to show you how strong you are. Always remember that you are doing it for your health and to have beautiful hair.
During a natural hair journey, you sometimes need to wait for a long period of time before you can appreciate the growth and results of your natural hair.
3. HERE ARE TONS OF YOUTUBE VIDEOS ON NATURAL HAIR JOURNEY! USE THEM!
When you decide to go on your natural hair journey, just know that you will have many things to learn! It will be an exciting part of going natural!
Things you will learn:
How to do protective styles for my hair type?
What is my hair type?
How long can my hair grow?
What are the best natural products for my hair type?
You will have to learn how to do protective styles and what best products to use for your hair type. Do not worry! You'll see that there are tons of youtube videos that will help you. You can also find a lot of blogs on natural hair journeys and protective styles.
Cool Natural Hair YOUTUBER to watch for motivation: (100 % great tips and tricks)
Mahoganycurls
Ebony's curly TV
PowerInYourCurls
The Glam Twinz
Naptural85
Leave a comment on this article if you know other cool YouTubers!
4. YOU WILL BE PART OF A COMMUNITY!
The Natural Hair Community is international and is evergrowing. Becoming part of this community is amazing for so many reasons!
Women and men are coming together around the world and share tips and tricks on natural hair care. They share their beautiful curl patterns. You probably won't find individuals with the exact same hair pattern. Every pattern is a little different, even if they look the same. This is so amazing about natural curls!
When you go natural, you will discover the fantastic community on Youtube, Instagram, Tik Tok, and tons of other social platforms! You will find excellent tutorials and unique before and after pictures.
You will discover new people. When you have a bad hair day, you will find inspiration through tons of influencers to continue your hair journey! The natural hair community is full of good vibes because people want to help each other.
You will understand the importance of sharing experiences and how they can really help you during your natural hair journey.
5. YOU WILL DISCOVER YOUR REAL HAIR TEXTURES (textures with the S at the end!)
Another thing that you will discover when you go natural is your  REAL HAIR TEXTURES. When you go natural, you will find out how curly your hair is and the fact that you have different hair types on your head! It will be a remarkable discovery.
That's not it! You might have tight curls in the front and loose ones in the back on your head! A secret you didn't even know you had.
When you relax your hair or use harsh chemicals, the hair becomes dry and tired. You may also experience extreme breakage, and your hair may never get to its full length! All of this changes the shape of your curls. When you go natural you discover the full curl capacity of your hair. You will also see that your hair is unique, and you may have different hair types on your head!
BONUS JUST FOR YOU: Another reason why you should start a natural hair journey is that it could become your business! You'll have the opportunity to become a YouTuber, blogger, or influencer. Guess what? It is also undeniable that there are lovely natural hair product business opportunities out there.
You can sell natural hair products online or open a shop! The natural hair business is growing every day.
Drop a comment if you would like to know more about the natural hair business! If you want to learn how Liline made $40,000 in sales in a few months through her hair journey, check here to learn about her lucrative Hair Journey article!
AS A CONCLUSION, going natural is a self-improvement process. You will teach yourself how to take better care of your hair. Your hair will become stronger, thicker and your scalp will be way healthier as well.
One great thing about going natural is that you will not be alone. Every day, there are tones of women that decide to go natural for the first, second, or for the tenth time in their lives. Cutting that hair can mean new beginnings for a lot of women!
The natural hair community is so big, and the movement so unique that you will not feel alone. You can watch YOUTUBE videos that will be helpful for every step of your natural hair journey.
Remember that there are so many business opportunities for you when you decide to start a natural hair journey.