5 WOMEN ENTREPRENEUR MISTAKES THAT MAKE YOU LOOK OLDER!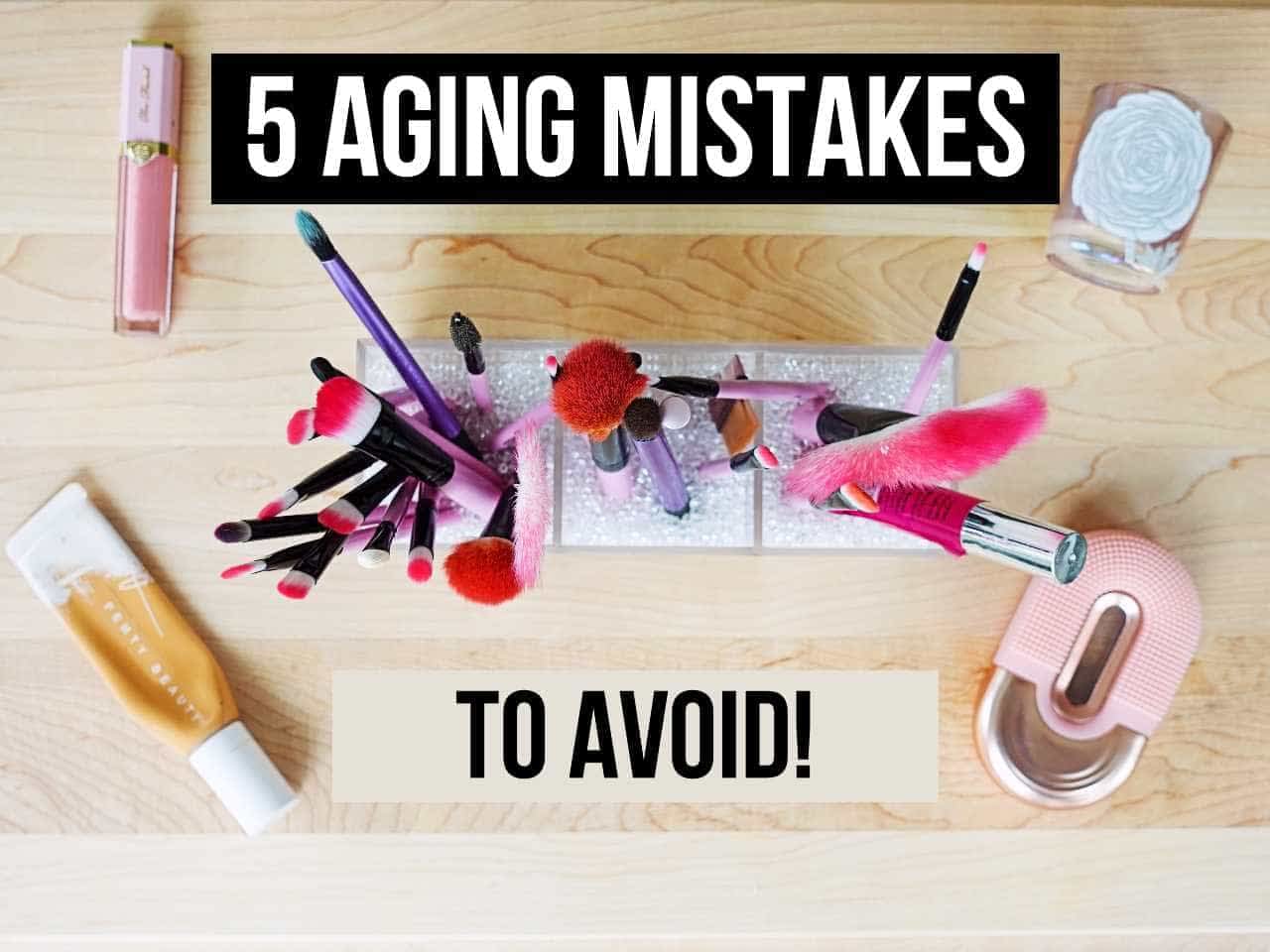 If you clicked on this article, it means that you are a Woman Entrepreneur. So first, CONGRATS! How amazing is it to be your own boss? We are pleased to see you grow and go after your dreams. Now, do you want to know how to look younger? Do you want to know what mistakes to avoid that make you look older?
By the way, don't forget to comment at the end of the article if you want YOUR BUSINESS FEATURED for FREE on our website!
Since you NEED HELP with your skin, our goal today is to help you feel better about yourself as a woman entrepreneur.
But first, let's ask a few questions because we want to get to know you!
When you look at yourself in the mirror, do you feel like time passed by too fast? Do you ask yourself, "Where did the last 10 years go?". Are you over 30 but feel way older than you actually are? It's okay! We'll give you a few anti-aging secrets that will make you feel and look better instantly.
Keep on reading if you want tips and tricks to keeping youthful skin and body.
In this article, we will go over mistakes that may be taking the youth out of you!

1. You Are a Stressed Woman
Before we start talking about this section, we want you to understand that bad stress can make you look a lot older. We want to help you and switch things around for you.
You may be a woman entrepreneur, a corporate woman, a hard-working mom, a two job hustler, a student, and you can be so much more as well. We get it, and we understand the stress that can come with all of that. You have a lot to do everyday, but it does not mean that you should put yourself last.
The truth is, the minute you realize how important your well-being is and how your well-being links to real success, your life changes.
"The minute I realized that it was not the life I wanted, I decided to stop everything and rebuild my life. It was his was the best decision of my life." – Liline
At United Cuties, we want you to find yourself. We want you to be able to discover that you can own your own business, have kids, have a social life or tones of animals, and still have a wonderful time being you. The real you.
DEAR STRESS, please stop aging my skin.
We have to stay true, there is something you need to know about stress is that most of that stress is here because you allow it. It can be a friend, a boss, a family member that is always negative. You take on that stress and put yourself last.
Stop doing that! It's time for you to choose your path! You have to commit to removing unnecessary negativity from your life. Remember that we only have one unique life, so why spend most of it stressed about negativity? STAY AWAY!
"I choose to be happy and positive every day!" – Liline
Now back to our subject, let's go over a few tips and tricks to remove unnecessary stress from your life.
You can start a 7-day challenge. Every day for 7 days, take 7 MINUTES FOR YOURSELF. Stress really shows on your face, and taking a few minutes every day can make a significant skin and health difference. What to do during these 7 minutes?
Site down!
Take a deep breath (you can use the breathing exercises from your Fitbit watch).
Close your eyes and let go.
Before you open your eye back up, say out loud three things you are proud of today.
Take 2 minutes to stretch every morning and every night. Mobility is essential, and a tiny bit of mobility can change the way people see you. You will be less tense. You will move better, feel better, and younger. You will have more energy and feel happier, which will reflect on your skin.
Bonus: If you need help organizing your life to feel less stressed, you can download our FREE calendars and daily routine PDFs!
2. You Skip Leg Day!
You do not have the time to workout. We are just going to be straight with you. There are a lot of hours in a day, and all you need to feel younger and healthier is 7 minutes of workout a day! 7 minutes is nothing. Reduce that 1 hour your spend in front of the TV at night to 50 minutes instead. And get 7 minutes to work out in front of Youtube and 2 minutes to cool down and drink a cup of water!
We recommend that you watch lucy Wyndham-Read videos!
They can change your life and make you look younger! You will also have more energy. These videos are excellent and so easy! If you try them, don't hesitate to send us Before and After pictures of the results!
3. You Do Not take the Time to Work on Wrinkle Remedies at Home.
Since you are a hard-working entrepreneur, student, or mother, it can be challenging to find the time, patience and get the perfect products to take care of your skin. No worries! We got you! All you need is to find some lotion, serum or oil, a mirror, and 5 minutes in the morning or before bedtime!
Do the 1-MINUTE FACE MASSAGE! It may sound crazy, but face massage can make you look so much younger, give elasticity to your skin, and remove small wrinkles! Face massages can make you look years younger! It can also lift and change the shape of your face. Face massage can also help with your double chin if you have one! It is a fantastic beauty hack!
Don't forget to send pictures and leave comments below after doing one month of face massage! We would love to see those results!
4. You Do Not Have a Sleep Routine
It is important to have a sleep routine and to track your sleep. How to set a sleep routine, you ask?
Find five things that you will do every night before you go to bed. After a while, your body will be alerted that it is time to go to bed, you will better and longer!
You can start your sleep routine with 2-minute stretches followed by positive affirmations, a little face massage, and a few minutes of mediation.
Your sleep routine should be a combination of patterns that will slow your heart rate down and make you feel better and relax. It will be easier for you to go to bed. Always remember that you need to put yourself first.
5. You don't have youth goals!
Now let's get serious! You are a woman entrepreneur or will soon be, so you need to set youth goals! Without goals, you will not push yourself. It is just how we work! Remember that goals have to be reachable.
Ont thing to know is that it is always great to find a goal partner! It can be a friend, a neighbor, or a family member! You can also set goals with other members of the UnitedCuties.com community.
You got this! Especially as a woman entrepreneur, you have to remember that you should always put yourself first. At one point, your health will reflect on your business. That is why we can't emphasize enough how your health and how you take care of yourself are so important.
Not having youth goals is a mistake that you shouldn't make anymore! You need to have youth goals!
Your youth goals should include anything related to your health, well-being, skin, and body. Make sure that positivity is always part of your goals as well. Please comment at the bottom to share any ideas of fun youth goals!
BONUS: Have you ever heard about the FitTrack pro? It is amazing! You can weigh yourself in less than 10 seconds and see your metabolic age. It's crazy! You can eat better, workout, and see your metabolic age decrease as you age. This is amazing! We truly recommend for you to get the FitTrack pro app and scale. 
We can wait to see you grow, and we can't wait to see you glow!
CONCLUSION
Don't ever forget to put yourself first. Your well-being is key to your success and your youth. You have to take the time to create a routine that would work best for your skin and health.
You should treat your face, your body, and your skin as if it was your moneymaker! Just know that your self-care reflects on your business and your happiness. We want you to be a successful woman in every part of your life.
Reduce the bad stress in your life and take a few minutes a day to relax, stretch and work on that face massage! Do not forget the lips and the skin under your eyes.
Always remember that the essential part of having great skin is to have skin goals!