HOW TO MAKE RICE WATER HAIR WASH FOR HAIR GROWTH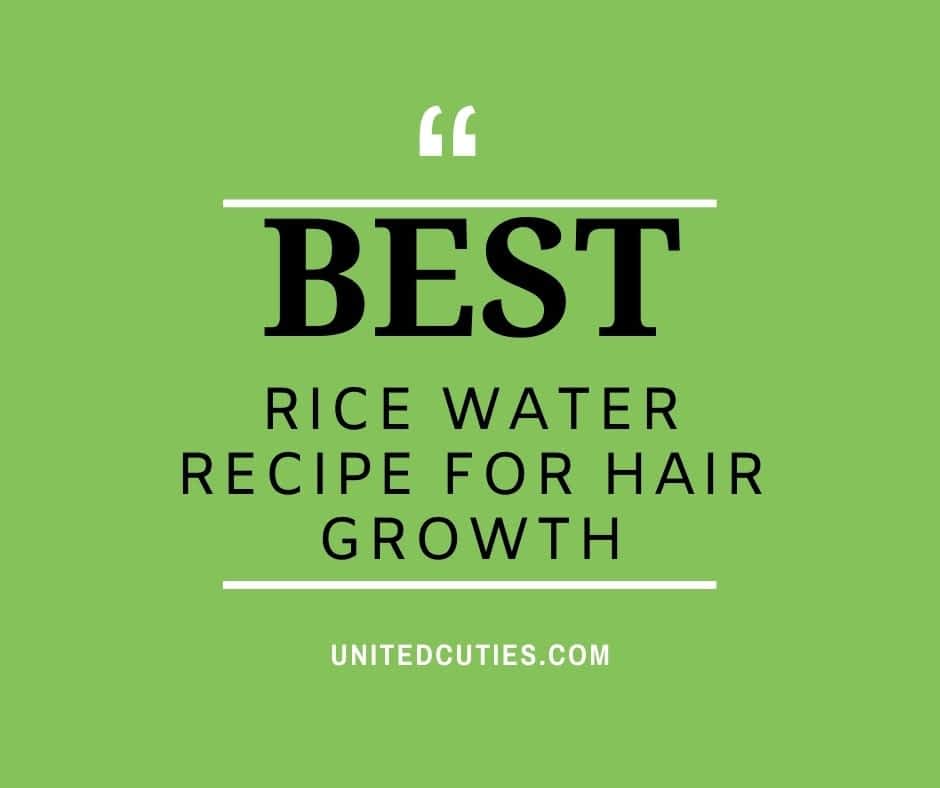 If you are having a hard time with hair growth, gray hair, and length retention issues, keep reading. Have you heard of rice water and its benefits for your hair? Rice water hair wash will grow your hair fast and long.
Rice water is well known because of its hair benefits. It promotes hair growth and repairs color-treated and natural hair as well. The thin texture of rice water contains strong nutrients that will really make a difference in your hair. 
We are sharing this rice water hair wash recipe to help you with gray hair and length retention! There are 3 different recipes. 
Are you ready to try rice water in your hair? It's time for a new you, new hair, and new self-confidence. Let's go!
WHAT THE RICE?
Frequency of use: Remember that rice water is strong, and you shouldn't wash your hair with rice water more than once a month. This hair wash is similar to a protein treatment. These types of treatments are not meant to be used more than once a month on your hair. 
Rice Water Goals: Rice water is excellent for fast hair growth, length retention, and slowing down the appearance of gray hair!
Fun Fact: Rice water can be smelly, especially when it is fermented. You can add vanilla or essential oils to hide the smell. 
Hair types: Rice water is great and can be used on all hair types!
Tools:
1 Measuring cup

2 Large Sealed Container

1 Funnel

1 Large spray bottle

1 Wide Tooth Comb
STEPS FOR RICE WATER IN HAIR
Put 1 cup of any type of rice in your bowl

Wash the rice 2 times with water

Drain the excess dirty water out

Transfer the rice from the bowl to your container by using a funnel

Add water to the container. There should be 4 cups of water for every cup of rice. 

Close the container and shake the container.
GET YOUR HAIR READY FOR THE RICE:
Wash your hair with a

co-wash

,

do not use shampoo

!

Detangle your hair with a

conditioner

Separate your hair into 6 different sections with a wide-tooth comb
Plain Rice Water: You can use the plain rice water right away. Extract the water from the rice into a second container. You can then use plain rice water to rinse your hair. 
Fermented Rice Water: 
After mixing the rice water. 

Let it sit with the rice for 24 hours

. 

Once you are done, you can extract the water and rinse your hair.

The rice water is ready for your hair!
Fermented Rice Water Mixture:
Extract the water from the rice and place the water in a pan.

Add orange pills to the water and let it boil for 10 minutes.

Let the rice water cool down and when cold, place it in a container.

Close the container lid and let it

sit for 24 hours

. 

The rice is now ready for your hair!
Application: You should apply this mask to clean wet hair. Make sure to wash the rice at least 2 times before use.
APPLY THE RICE WATER TO YOUR HAIR

: 
Start with the roots by using a spray bottle

Then move down to the rest of your hair

Massage your scalp gently

Leave in for 15 minutes

Gently rinse the hair
THE BENEFITS OF RICE WATER IN HAIR
Rice water is fantastic for your hair. If you have difficulty growing your hair, rice water can do the trick. 
This water will also help you add shine, fullness, and thickness to your hair. One of the essential benefits of rice water is that it slows the appearance of gray hair!
PRO TIPS
Rice water is

full of nutrients

. If you use it too often, it can damage your hair. Our recommendation is

no more than once a month

for the best results.

You can use

orange peels

to cover the weird smell of fermented rice.
AS A CONCLUSION, rice water is a fantastic ingredient you can add to your hair routine. Rice water is so strong that it changes the looks and health of your hair after a few uses. 
Rice water can strongly help with hair growth and length retention. Fermented rice water is stronger than plain rice water. If you want more results, we recommend that you use fermented water when trying this recipe. 
Did we mention this? If you are sensitive to weird smells, you may want to keep it simple and use plain rice water. 
Rice water brings shine and fullness to the hair. One of the great benefits is the fact that it can slow down the appearance of gray hair. If you have not tried these rice water recipes, now may be the time!