THIS EGG HAIR MASK RECIPE WILL GROW YOUR HAIR FAST!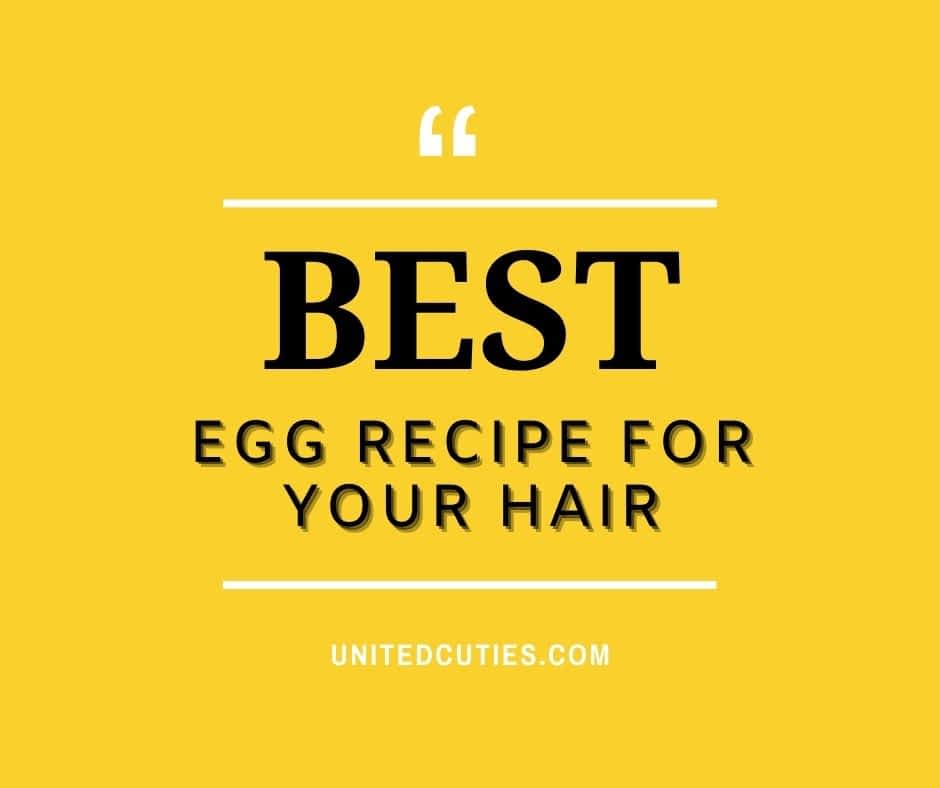 An Egg hair mask has tremendous benefits for your hair. Growing your hair to your dream length may be challenging when you have naturally curly and chemically processed hair. Did you know that eggs can help with hair growth?
One misconception that we often have is that our hair sometimes does not grow. That's not a true statement! Your hair grows unless you have a specific medical or hair condition.
You might think your hair is not growing because you do not see a change in the length of your hair. The beautiful truth is that your hair is still growing, but it's breaking or thinning at the same pace or faster than it is growing, so you do not see a difference in the length. You might even see your hair getting shorter and shorter!
Don't worry! Your hair is dry, tired, and does not grow; we might have something to help you. Have you ever tried eggs in your hair? We put together this Egg hair mask recipe that will provide so many benefits to your hair.
WHAT THE EGG?
Frequency of use: ONLY USE THIS MASK ONCE A MONTH, PLEASE! Using the mask more than once a month can make your hair weaker and give you the opposite results than the ones you are looking for. 
Egg Goals: Use this mask if you want your hair to grow stronger, faster, and longer.
Fun Fact: Eating eggs can also help you with your hair goals, but you should always check with your doctor first.
Hair types: The egg hair mask is suitable for all hair types. Whether you have straight, curly, or frizzy hair, it does not matter. Your hair will appreciate this mask.
EGG HAIR MASK RECIPE INGREDIENTS:
Eggs: 3 Large Brown Eggs
Avocado: 1/2
Honey: 1 Teaspoon
Banana: 1 Smashed
Castor Oil: 1 Tablespoon
Brown sugar: 1 Tablespoon
Application: This mask can be applied on clean wet hair or dry hair as well. 
TOOLS:
1 Tablespoon

1 Teaspoon

1 Mixing Spoon

1 Large Mixing Bowl

1 Wide Tooth Comb

No need for a heat bonnet

! You won't need one because you don't want to have an omelet on your head!
SEPARATE YOUR HAIR!
Separate your hair into 6 different sections with a wide-tooth comb.
APPLY THE EGG MASK TO YOUR HAIR

: 
Apply the mask gently

without rubbing

your hands and hair together. 

You have to monitor the temperature and make sure the

mask stays cold

. Apply starting on the

ends

and move up to the

scalp

. 

Do not add any heat cap for this mask.

After 25 to 45 min, rinse with cold water.
THE BENEFITS OF EGGS IN YOUR HAIR
The benefits of eggs in your hair are countless for sure! Eggs will help you with the thickness and length. Eggs are made of proteins which are amazing for your hair. Yup! Your hair is made of protein too! 
When you add eggs to your mask, you will restore moisture and vitality and tremendously help your hair growth. This is as long as you do not overdo it!
HAIR EGG MASK INGREDIENT BENEFITS:
Eggs: They will help tremendously with hair growth and thickness.
Avocado: This will help with moisture, beauty, shine, and silkiness.
Banana: The protein will help with hair growth and strength.
Honey: This will bring a pleasant smell and add shine to your hair. 
Olive Oil: Vitamin E will help protect the hair.
Castor oil: This oil will help your hair grow faster than usual.
Brown sugar: This will gently exfoliate the scalp.
PRO TIPS: 
If the

eggs get warm

, they

will cook on your hair

! Make sure that you

DO NOT rinse the mask with hot water

!

Do not use this egg hair mask in your hair more than once a month. Eggs have protein, and if you add

too much protein

to your hair, it will have the opposite of what you are looking for. Your hair will dry up and break. You have to

be reasonable with this mask even if you want your hair to grow faster

and be healthier. 

Don't worry. If your hair doesn't like eggs, you can try

other hair mask recipes

for shine, health, and bounce. 
AS A CONCLUSION, adding eggs to your hair mask recipe can make a huge difference in your hair's health. 
As long as you only do the mask once a month, your hair will appreciate this mask! 
Indeed, after a few months, you should start seeing a big difference. Your hair will be longer, shinier, and way healthier. You will definitely appreciate a change in the thickness. 
It can be weird to apply eggs to your hair, but your hair will love that!