HOW TO SET WEIGHT LOSS GOALS – (THE RIGHT WAY)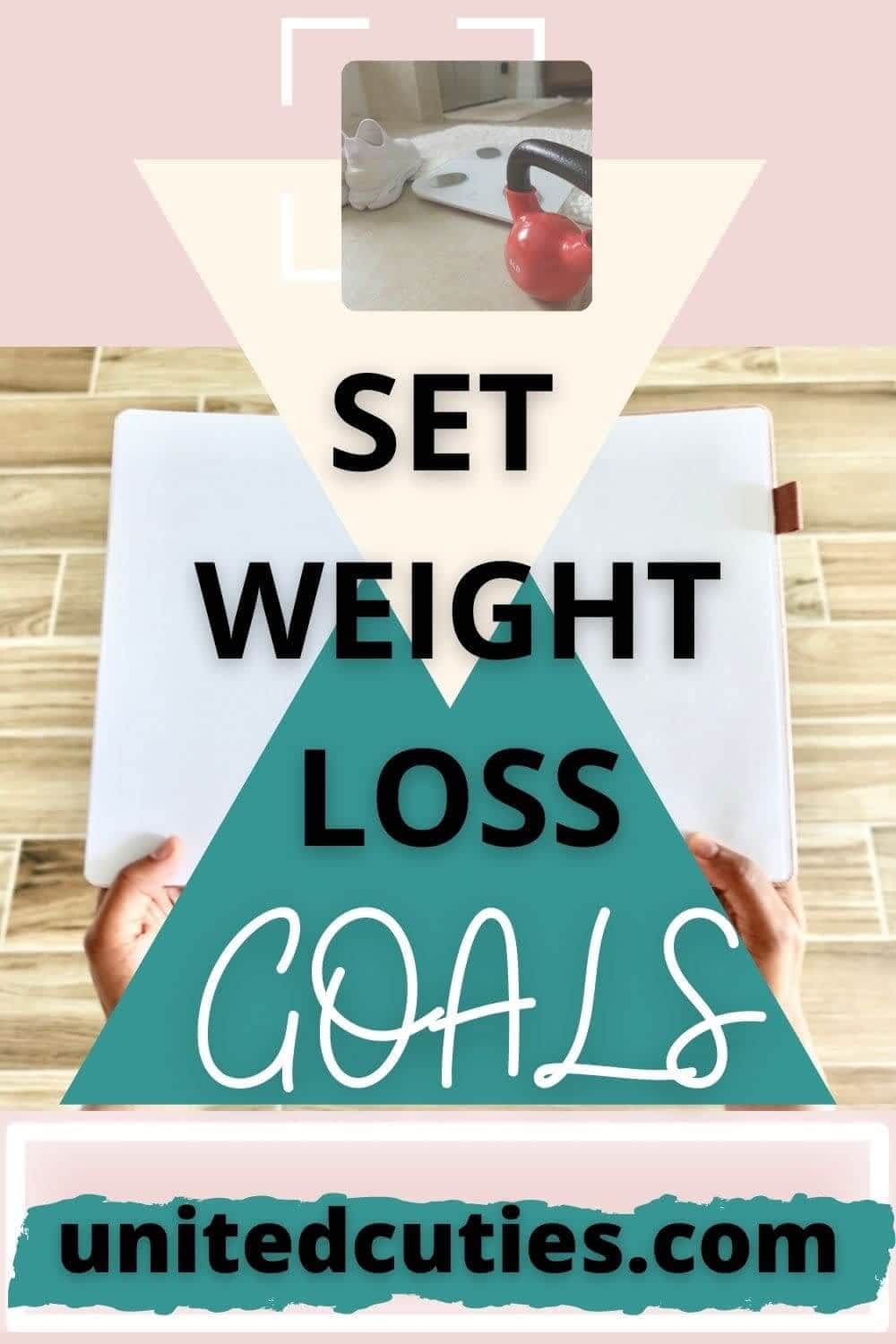 Losing weight is an energy consuming process. To be successful in weight loss, as in anything else in life, you need to learn how to set weight loss goals. Keep reading to find the best tips and tricks on how to set your weight loss goals. 
Before we teach you how to set weight loss goals, let's get to know you. Do you always set weight loss goals that are unachievable? Do you always start your diet on Monday and give up on Wednesday because you don't see any changes? 
In this article, we'll help you set the proper expectations for your weight loss journey. 
Remember to always ask your doctor before going on a diet. 
1. ACCEPT THAT IT WILL TAKE TIME
The most important thing to remember before starting your journey is that it will take time to lose the weight and keep that weight off your love handles! You'll need to accept that it took time for you to gain weight, so it will take time as well to lose all that weight. Understand that time is also part of the reward. If it takes a while, you will have a deeper appreciation of your success. 
But guess what? Weight loss does not always have to be a pain. You can have fun while losing weight as well. To stay motivated to lose weight, you'll need to build a positive mindset and have an active and healthier lifestyle; otherwise, it will be a tricky rocky road. Remember, weight loss is a long process because once you lose the weight, you also have to keep it off.
2. UNDERSTAND THE REASON FOR YOUR WEIGHT LOSS JOURNEY
Before trying to set weight loss goals, write down why you want to lose the weight. What is your focus, what is the basis, what made you believe it was time to make a change? 
The reason should be so important for you that when you are lazy or in front of an unhealthy meal, this reason will push you to change your habits and bring you toward the right decision. 
3. WRITE YOUR REASON DOWN EVERYWHERE
Remember this: 
If you want to know how to set weight loss goals, write your reason everywhere. You should think about your valid reason every time you make a decision that will have an impact on your goal. 
Write your reason down first to keep it off your chest. 
Write this reason down again and tape it on your walls, mirrors, and in your car. It needs to be everywhere to remind you of your goal every day. It is all part of the process of setting goals. 
4. UNDERSTAND THE IMPORTANCE OF NEW HABITS
You will need to acknowledge the fact that you will have to change your habits. If you have extra weight because of your habits, you will have to work on them to align with your weight loss goal. Your new habits are part of the process of understanding how to set weight loss goals. 
5. BUY A PLANNER
To understand how to set your weight loss goal, you have to accept that you will need to do some long planning! Think of a realistic timeframe to achieve your weight loss goal. This is the fun part!
It's easy to lose 5 lbs fast, but remember that you are more likely to regain double the amount of pounds you've lost when it's too easy. Think big. Instead of wanting to lose weight in a month, tell yourself in a year! 
Give yourself time. Understand that life will come in the way, and there will be a lot of setbacks. Write down on your planner that the little steps and the little daily achievements will make the difference in a year only if you do them daily. 
Ask your doctor what would be a healthy weight for you.
How to set weight loss goals:
Set your weight goal

Set an extended date and write your dream weight on that date in your planner

Start your planner with a first-day goal – It is excellent to journal your weight loss journey.

Every morning write down

your achievements from the day before. "I ate an apple yesterday instead of eating my usual brownie snack!"

For every week, write down "I worked out 3 times this week". This way,

you will feel like you have to do

it since it is already in your planner! 

At the end of the week, write down a list of achievements in your planner. 

Start planning your first week's goal.

Then plan your two weeks goal.

Then go to your monthly goals.

Do a

check-in with your doctor

, your friends, and your family every month. Add this to your planner. 
You will realize that you might need to change your goals once you discover more things about your body and habits. You may not shrink as fast as you thought. That's ok, just rearrange your planner. 
You will need to review your planner weekly. No one is perfect, so it's ok. Remember the little steps that will make a massive difference at the end of the year! 
Rearrange your planner little by little, discover how you were able to change habits, and know what does not work for you. Don't put your expectations too high too quickly. Take your time. Remember that it took you a while to gain weight. 
BONUS INFO: What really counts at the end of each day is that you are making progress. Maybe you didn't lose 2 lbs the first week, but imagine if you lose 0.25 lbs every week for a year, that's 12 lbs in a year.
6. PUT UP A CALENDAR
Once again, you will need to start small. Get a calendar that you can put up on your wall. 
You will need to see this calendar every morning and every night. You have to be reminded of your goals constantly. Highlight important goal dates on your calendars. They need to stand out. 
It is essential to have a calendar because it is a more significant visual than your planner. You can use your calendar as a vision board as well. Make sure to add pictures and things that you want to achieve during your weight loss journey. 
7. REARRANGE YOUR LIFESTYLE
To lose weight, you have to plan your lifestyle as well. You may need to create a weight loss running plan or take a weight loss yoga class for beginners. Whatever you do, make it something that you will enjoy. 
If you have fun, you will have more positivity in your life, and you will link positive thoughts to your weight loss journey. Think about weight loss lunch ideas, and change the food you have in your fridge. 
Find fun weight loss exercises to do at home when you can't go to the gym. Life will get in your way 99% of the time, so learn how to rearrange it to make your weight loss journey last! 
If you want to know how to stay motivated to lose weight, make sure to have weight loss rewards! Make a list of unique and healthy weight loss rewards or gifts for yourself when you reach a weight loss goal! 
8. RETHINK YOUR RELATIONSHIPS
You will need to have your family and friends part of the process. A lot of the time, people will not take you seriously. 
You may tell them that you can't eat certain things, and they might laugh. They might also tell you, "it's just one time". It's essential to talk with them to understand how important your weight loss journey is to you. 
If they do not understand, you will need to be picky about your relationships during the weight loss journey. 
9. WHAT THEY DON'T TELL YOU ABOUT WEIGHT LOSS
So what happens when you lose weight? There are things that you will need to take into account before going on your weight loss journey. 
Depending on the weight you are trying to lose, most people will not see the difference. It's important to know this because you have to keep yourself in check and make sure that you are going on your weight loss journey for yourself and not for others. 
If you want to know more about what happens when you lose weight, the truth is, you may get negative comments or reactions. You might not have the reactions you've dreamed of. 
To avoid feeling sad about this, remember to always congratulate and reward yourself. Self-love is much more important and unique than what others think of you.
Another thing to know about what happens when you lose weight is that you may have extra skin, you may discover stretch marks, and you may need to start a fitness journey as well. This is one of the reasons why it is so crucial for you to check with your doctor first to evaluate the best weight loss programs and active lifestyle options for you.
Remember to keep a positive mindset and to block the negativity from your life. Having a positive attitude is like a game. You will get better at it little by little. Now that you know what happens when you lose weight let's talk about self-talk!
10. WEIGHT LOSS AFFIRMATIONS IDEAS
Weight loss affirmations are essential for your weight loss journey. They will help you keep yourself on track and help you build a positive mindset. 
I'm so beautiful, and I'm able to make better choices than yesterday.

I make good choices every day.

I am gaining my fitness back. 

I love my

active lifestyle

habits.

I am successful again today.

I am so proud and happy to continue my journey. I was able to get this far, and it was not just to stop here. 

I know why I started my weight journey.

I finally achieved my dream weight of…
Make sure that you write your favorite ones on a piece of paper and tape them to your mirror! This way, you will be reminded every day of your weight loss goal. You will have no excuses!
AS A CONCLUSION, to learn how to set weight loss goals, you will need to start by understanding the valid reason why you want to lose weight. If that reason is not strong enough, you won't be able to keep going. 
If you want to have a successful weight loss journey, take the time to understand yourself first. 
Self-love is always going to be a huge part of your weight loss journey. You will need to remember why you started your weight loss journey to make sure that you keep going. Self-love should be a part of your reason!
You will need to cut the bad noise and negativity from your life. This will help you live a healthier lifestyle and appreciate your wins!
Understanding how to set weight loss goals is not that complicated, but you have to learn your priorities and teach yourself how to plan. You will need to be realistic as well. If your goal is realistic, you will believe in it, and you will be way more likely to achieve it!
At last, once you have your plan, don't forget to execute your plan daily.