RIDICULOUSLY EASY SELF LOVE HABITS THAT WORK!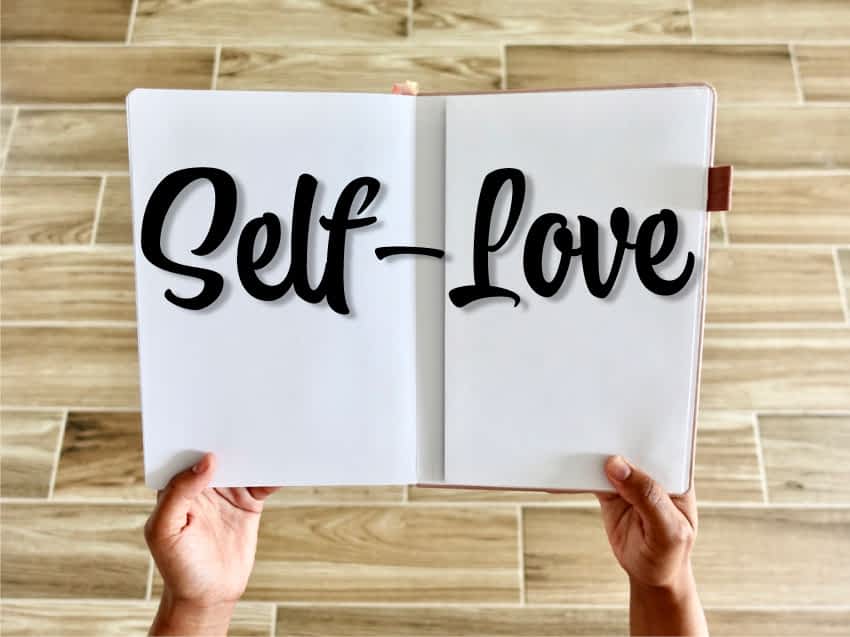 Practicing self-love is key to abundance and success. When you practice self-love, you put yourself first, and you believe in your potential. If you want to practice self-love, you will need to create new habits and routines. In this article, we will go over what you can do to practice self-love the right way.
There are so many things that you can do in life to practice self-love. We'll go over different ways to do it.
Before we move forward, let's talk about what self-love is and its true meaning.
SELF-LOVE DEFINITION:
Self-love simply means to love yourself. When you practice self-love, you put yourself on a pedestal and protect yourself from negative vibes and destructive relationships.
The most beautiful relationship you should have is with yourself. Why? Because when you have a healthy relationship with yourself, the relationships around you with your family, friends, or colleagues become amazing.
PRACTICING SELF-LOVE MEANING:
Understanding the meaning of self-love is crucial for self-development and personal growth. When you genuinely love yourself, you do everything in your power to make yourself happy. When you are happy, you surround yourself with positive energy, positive vibes. Your life suddenly becomes better.
When you practice self-love, it means that you understand the uniqueness and importance your being has in this world.
Quick Trick To Change Your Life: Create the habit of self-love.
It is never too late to practice self-love. You can do it at any time in life, but you have to understand that the sooner you do it, the better your life will be.
Self-love can change your life.
Why do we forget to practice self-love?
Self-love is not something that we usually learn in school. It can actually feel weird and uncomfortable to do. Nowadays, people are so busy with school, life, competition, and social media that they do not take the time to practice self-love.
People are sometimes too busy, and it can be difficult; with school, work, kids, and expectations, we put on ourselves to find time to practice self-love.
For a lot of us, practicing self-love can feel really uncomfortable.
We often forget about ourselves and who we really are. What we don't realize: when we fail to love ourselves, we make our lives more complicated. Everything becomes more challenging when you don't have self-love.
One thing is for sure. You can't practice self-love if you don't practice self-care. Check out this article if you need lovely ideas for self-care.
"What I was missing was self-love." – Melinda.
People who live a healthier lifestyle practice self-love. Stop taking your feelings for granted, and take the time to love yourself.
1. BE GRATEFUL FIRST THING IN THE MORNING
You have to acknowledge your accomplishments. Be proud and grateful for all the big and small accomplishments in your life. When you wake up, being thankful should be part of your morning routine.
Start your day with "What I am grateful for is …", and make a list!
This will create a massive difference in your life. Did you know that self-made millionaires practice gratitude in the morning? If you are grateful for your big and small accomplishments, everything around you becomes more precious.
Everything makes more sense, and you start paying attention to things that matter. You build a positive mindset, and you begin your day on a good note!
2. BUILD SELF CONFIDENCE BY DOING THIS
Would you like to know a small trick on how to build self-confidence? 
Accomplish one little goal every day!
You will gradually feel proud of yourself, and you will boost your self-confidence. You will realize that you can accomplish your goals.
All you need is a little discipline. This should be part of your daily goals!
BONUS TIP: Discipline is the basis of success!
3. FIND 3 UNIQUE THINGS ABOUT YOU
What do you see when you take a look in the mirror?, Find 3 things that you secretly like about yourself.
It can be something funny, a weird flaw, or beautiful things about your personality!
4. REMIND YOURSELF DAILY HOW AMAZING ARE
Don't be ashamed to remind yourself how mind-blowing you are. Sometimes we just need a little push! Just tell yourself that you are amazing and understand the truth in this statement. Everything about you is amazing. You are the only person in this world with your story, your secrets, and your feelings.
5. STAY AWAY FROM NEGATIVE OR DESTRUCTIVE RELATIONSHIPS
Negative friends, colleagues, family members are a NO NO! They can ruin your whole week with one phone call! You can't love yourself if you are stuck in negative relationships. You can love yourself when you are surrounded by people who bring you up.
6. EAT HEALTHIER FOOD
You can't practice self-love without paying attention to what you eat. Eat healthier food to live a healthier lifestyle. When you eat healthy food, you feel better about yourself. You have more energy, and you don't have any remorse. This is the feeling you need to boost self-love.
7. WORKOUT WEEKLY!
Boost your energy and live a healthier lifestyle by working out every week. Take care of yourself. A great way to practice self-love is to cultivate your body as if it was a flower. Treat yourself well, and you will have a healthier lifestyle.
8. SPEND SOME ALONE TIME
Spend time with yourself! Learn how to rediscover who you are. Stay away from social media, reality TV, and all of the other distractions in your life. This is making you lose yourself. Take time and pause. Take a break and realize that the most meaningful things in life are not on social media.
9. LEARN ABOUT YOURSELF
Take a look at your life and think about what you don't want and the things you want. Write what you want down and focus on this list.
Understand why you want these things. Think about the little fun things in life that give you the feeling of happiness. Do fun quizzes online to see what your personality is. Read self-improvement and self-development books. Discover things that you didn't know about yourself. If you want tips on how to be a happier woman, check out Alicia's article on FemmAllure.
10. TAKE A BATH
Take a bath to collect your thoughts and reconnect with your values. If you take a bath and listen to the right music, you can change your whole day. Forget about the difficult things you had to go through during the week and appreciate that you are doing something for yourself and your well-being.
11. WRITE A JOURNAL
Clear your mind and write things down. Make a list of everything on your mind in the morning or before you go to bed. Let everything out. This habit is going to help you with negativity.
You will feel less stressed. After all, when you write something, you feel like you don't need to remember it because you can always go back to the things you wrote down. This will lift pressure from your life. 
Self-love is also removing as much stress as possible from your life.
12. GO AFTER YOUR DREAMS
The only valid reason why you are not going after your dreams is you. When you don't love yourself, you don't believe that objectives are attainable. Are you scared to fail? Well, guess what? If you are not going after your dreams, you are already failing. You don't want to wake up one day and realize it's too late to do the things you've always dreamed of.
Love yourself and tell yourself that you will go towards your dreams as a gift just for you!
13. TAKE THE TIME TO MEDITATE
You have to try it. At first, you may need to force yourself to stop everything you are doing to meditate. However, you will realize in the long run that meditation can change your life. You will become more aware of your thoughts, and you will find ways to control negative thoughts. You will be able to work on your through to build a positive mindset.
14. GET SOME SLEEP
To practice self-love, you need to live a healthier lifestyle. Having a good sleep pattern is part of loving yourself. After a good night's sleep, you accomplish more, you are less stressed, and you become more aware of your surroundings. Set yourself up for success!
15. I LOVE ME!
Tell yourself that you love yourself no matter what. Only you can truly know what you have been through in life. The cool thing is, no one can truly understand what it feels like to be you, so you are special!
Thank yourself and love yourself. Tell yourself, "I love you." Realize that when you love yourself, you take better care of yourself, you make better decisions, and people appreciate you more.
16. CHALLENGE YOURSELF
Every day do one thing to challenge yourself. We can't stress enough the importance of challenging ourselves. If there are no challenges in our lives, we won't accomplish much.
You have to believe in yourself enough to overcome challenges. For some people, a challenge can be waking up early in the morning. For others, it can be to eat healthier. You can pick whatever you want, but it has to be daily, and it has to be challenging.
You will be proud, and your self-love will improve.
17. HELP OTHERS!
Self-love is also finding a way to help others. The more you love yourself, the more good you will be able to do around you.
18. STAND UP FOR YOURSELF
Even if you are shy, stand up for yourself. You don't have to be mean; you don't have to yell, and of course, do not fight, but build respect by letting people know when they are unrespectful to your feelings. If you don't, you will be the one feeling sad, not them. Don't be afraid to say something when your feelings are HURT.
19. THERE ARE NO LIMITS FOR YOU!
Think of all the possibilities in life. There are so many things that you can accomplish. Think of where you are and take a quick look back at all the times you cried, all the time you were not sure.
Somehow you still got where you are now. You are still alive, and if it's not the place you've dreamed of, just know that you can always find ways to reach your dreams. Pick new goals, start new routines, and put yourself first.
LIST OF POSITIVE AFFIRMATIONS FOR SELF LOVE
I am a unique human being in every way.
I am the only person who truly knows myself and the good I have in me.
I am an amazing person.
No one is like me, but I am not alone either.
I'm not perfect, but I am one of a kind.
I am worth so much.
I am lucky to live, to breathe, to see, and to experience my life
I have my own perspective.
I surround myself with the right people.
I love me.
OTHER POSITIVE WORDS FOR SELF LOVE
My life is my life.
My dream is my dream.
My love for me is true love.
My power is self-love.
My world brings me joy.
Me being here shows how strong I've been.
I walk in my shoes.
I write my story every second of my life. I do what I want with my story.
Self-love makes me a better person.
Self-love builds my self-confidence.
BONUS: NO ONE WILL EVER KNOW HOW TRULY AMAZING YOU ARE BECAUSE THAT'S YOUR LITTLE SECRET!
SUMMARY:
BE GRATEFUL FIRST THING IN THE MORNING
BUILD SELF CONFIDENCE BY DOING THIS
FIND 3 UNIQUE THINGS ABOUT YOU
REMIND YOURSELF DAILY HOW AMAZING ARE
STAY AWAY FROM NEGATIVE OR DESTRUCTIVE RELATIONSHIPS
EAT HEALTHIER FOOD
WORKOUT WEEKLY!
SPEND SOME ALONE TIME
LEARN ABOUT YOURSELF
TAKE A BATH
WRITE A JOURNAL
GO AFTER YOUR DREAMS
TAKE THE TIME TO MEDITATE
GET SOME SLEEP
I LOVE ME!
CHALLENGE YOURSELF
HELP OTHERS!
STAND UP FOR YOURSELF
THERE ARE NO LIMITS FOR YOU!
LIST OF POSITIVE AFFIRMATIONS FOR SELF LOVE
OTHER POSITIVE WORDS FOR SELF LOVE
AS A CONCLUSION, self-love is one of the most powerful gifts you can give to yourself. Self-love is something that only you can do for yourself. No one will be able to do it for you.
If you practice self-love, you will experience personal growth and personal development.
Put yourself in the right mindset and practice self-love exercises to build self-confidence and accomplish your goals.