THIS IS HOW YOU START OVER IN LIFE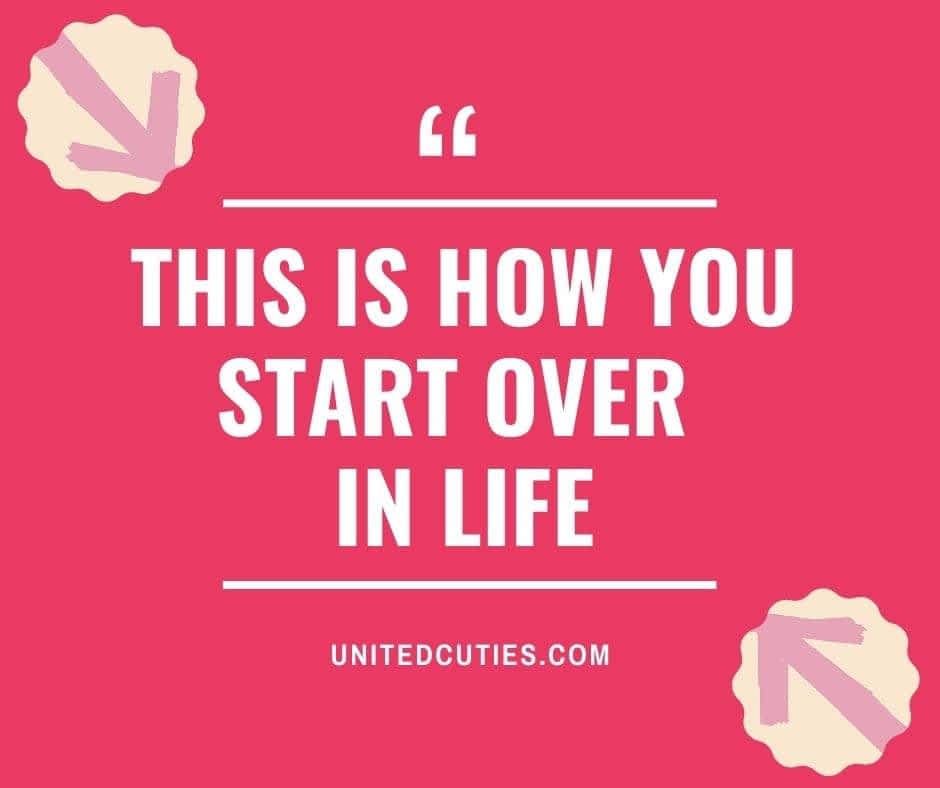 Deciding to start over in life is the ultimate commitment to become a better and new version of yourself. If you want to start over in life, make sure that your reasons are meaningful and sentimental for you. 
I'm just going to be straightforward. Your reasons are the only thing that will keep you motivated to change your life. It is the only way you can succeed in starting over for a happier and more successful life. 
I'm sure that 90% of people you know start over or have a new goal every month or every Monday! Do you know why they keep saying "Starting Monday"? Because their reasons are not deep and strong enough for them to succeed. So if they wait until Monday, they will probably give up soon after!
When you start your life over, you discover the true meaning of the following words: sacrifices, loyalty, challenges, habits, self-development, self-love, and decisions. It's going to be freaking hard, and you will have many setbacks. 
Changing your life and starting over means that you will have to rebuild your life from the ground up. It will get extremely uncomfortable. You'll have to accept the fact that you will need to be strong and highly goal-oriented. 
It will be painful to start over in life, but remember that the end results will be bigger than these challenges. If you decide to start over in life, you will need to make crucial decisions that will break you from your current lifestyle. 
Keep reading to start your new life! It's not a new chapter in life. It's more of a new library!
GIVE YOURSELF AN ULTIMATUM
The first thing you have to get in your head is that you will face an ultimatum right from the start! Yes. Either you make a move and change your life, or stay the same unhappy loser for the rest of your life. 
Keep in mind that if you keep making the same decisions repeatedly, you will keep being unsatisfied. If you keep saying I will start tomorrow, you will never start. 
If you truly want to start over in life, you have to start right NOW! 
Understand this: People make the decision to start their lives over on a Monday, and on Friday, they are back where they were last week, same bar, same friends, same depression. 
Why do they give up so fast? Because they thought that they were ready, but then life got in the way. So they ended up making the same decisions that they did before. 
Get this: no one will ever be ready to make a change because that's just how life is. Life will always get in the way. So if you wait for the day that you'll be ready to change, that day will not come, so you will never change. 
Here is the first choice you'll have to make:
I MAKE NEW DECISIONS EVERY DAY THAT BRING ME CLOSER TO MY DREAM LIFE, VS I KEEP TRYING TO START OVER AND GIVE UP IN A FEW DAYS BECAUSE I DON'T SEE RESULTS. 
So what's your choice?
HINT: Pick the underlined decision if you truly want to change your life!
Remember that if you are not happy in life, it's only due to the choices you've been making all along. Don't you want to keep making the same wrong decisions over and over? 
Alright, now that we got this out the way, there is something else you have to understand: Start feeling with your heart and act from experience. 
FEEL FROM YOUR HEART AND ACT FROM EXPERIENCE
What I mean by that is: 
You can't be successful in starting over if you don't feel the need to succeed in your heart. In other words, you will not find the strength to start over in life if you don't feel the urgency to change your life for the better in your heart. 
Once you feel from your heart, you have to act from experience. What I mean by that is this: 
You've made so many mistakes before, and if you are reading this, I already know your biggest mistake. You are reading my article, it means that you are trying to change your life. It also means that you are not happy with your life. So your biggest mistake is that you always give up too early. 
Let me give you an example of how to start making the decisions that will lead you to your success:
Let's say you want to make 10K a month.
DECISION A: I want to make 10K. I'm super excited to start searching for ideas to make 10K a month on the internet. Nothing is easy, so that same night, I give up.
The next day I watch Netflix until 11:00 PM. On Friday, I get paid, so I go to Happy hour with my friends that hate their job. We talk crap about our jobs, and then on Saturday, I have a hangover. On Sunday, I'm lazy but have to do laundry for Monday. So I do it, and on Sunday night, I start stressing about the job that I hate. 
DECISION B: Monday I go to work because I know that it will give me a salary and I will use this salary to invest in the side business that will bring me 10K a month. On Monday night, I start looking at ideas online of ways to make money fast. 
I realize that it can be challenging to make money fast. It's ok. On Tuesday, I keep looking at ideas. Same thing on Wednesday. By Thursday, I might have an idea of a side hustle I can do. On Friday night, I decide not to go to Happy hour with colleagues because I understand it's a waste of time, and my time is so important. 
I have to surround myself with the right people; otherwise, I will keep being unhappy. On Friday night, I start working on my idea, realizing that I am one step closer to my goal. 
NOW IMAGINE IF YOU ARE ONE STEP CLOSER TO YOUR DREAM EVERY WEEK. DO YOU GET IT? DO YOU UNDERSTAND THAT YOU'VE BEEN STUCK WITH DECISION A?
To reach your life goals and any type of success, you have to make tons of sacrifices. 
At the end of your life, are you going to think that you wasted your time at happy hour with people who don't really care about you, getting drunk and feeling miserable about your life, or are you going to be proud of taking the chance to run after your goals and live your life on your own terms?
MAKE A LIST OF ALL THE THINGS YOU NO LONGER WANT IN LIFE
This is going to be extremely important. If you want a new life and are ready to start over in life, acknowledge the things you no longer want. Then say F*** You to this list. Throw it away. It's said and done.
Make sure that you won't let these ugly thoughts come to your mind again. 
FIND WHAT IS HURTING YOU IN YOUR LIFE
Make it a purpose never to feel that feeling of pain anymore for being yourself. I'm just going to be real and keep this super short. You may need to read this sentence a few times. 
WHO DO YOU WANT TO BE
Before the new beginnings, you have to decide on "Who you want to be". If you have no idea of who you want to be, you will not succeed. Sit down, take a pen and draw the avatar you would love to become.
What do you look like?
Where do you work?
Where do you live?
Who are your friends?
What do you like to wear?
Your answers have to be believable to you; otherwise, you will not succeed in starting your life over. Remember that your journey is going to require a lot of work, self-esteem, and self-love. 
DRAW YOUR LIFE AND MAKE A VISION BOARD
Just do it. Unhappy people keep saying that vision boards are pointless, but they are unhappy. Why would you listen to them? So you've been listening to them all your life, did it work for you? Nope!
From now on, you'll have to be accountable! Decide exactly the life you want to have. Where do you want to live, what type of house, what kind of friends. What lifestyle do you truly want? You need to believe it in your heart, or you will not achieve your goals.
The vision board is so important because it will keep you in check when you want to give up. 
That's what I thought. Now create your vision board, and send me an email at [email protected]. I want to hold you accountable. 
HAVE AND KEEP A POSITIVE MINDSET
Having and keeping a positive mindset is difficult. It takes time and a lot of training. When you want to have a positive mindset and attitude, you have to undo everything you've learned for so many years about life. 
The practice of Yoga, Breathing classes, relaxation, and meditation can really help you build and keep a positive mindset. 
Always remember that life is better when you are happy and have self-love!
When you start a new life having a positive mindset is key. 
THE TRUTH ABOUT STARTING OVER IN LIFE
One thing to acknowledge is that it will never be too late to start over in life. Starting your life over is not going to be an easy process. It requires a lot of mental and physical work. 
And the hard truth is that it is going to be extremely challenging to start over. You are going to be sad, and you are going to cry. You might feel lonely, and you might have to give up on some friendships or relationships. 
The reality and truth is that in the end, it will be all worth it. When you reach your goals, when you are consistently positive, it will be all worth it. 
SUMMARY TO START YOUR LIFE OVER
GIVE YOURSELF AN ULTIMATUM

FEEL FROM YOUR HEART AND ACT FROM EXPERIENCE

MAKE A LIST OF ALL THE THINGS YOU NO LONGER WANT IN LIFE

FIND WHAT IS HURTING YOU IN YOUR LIFE

WHO DO YOU WANT TO BE

DRAW YOUR LIFE AND MAKE A VISION BOARD

HAVE AND KEEP A POSITIVE MINDSET

THE TRUTH ABOUT STARTING OVER IN LIFE
AS A CONCLUSION, starting over in life can become one of the most wonderful experiences in your life. You will realize that it is essential to celebrate little wins when you start over life because they will add up to create a significant change. Long-lasting results come from small decisions you make every day. 
When you start life over, you have to learn to say NO to anything that will not be helpful for your life goal. It will be challenging, but it is all part of the process to start over in life. Say Yes to new beginnings, new life, and No to making decisions that will keep you in your current situation.