7 BEST MINDSET TIPS FOR HEALTHIER EATING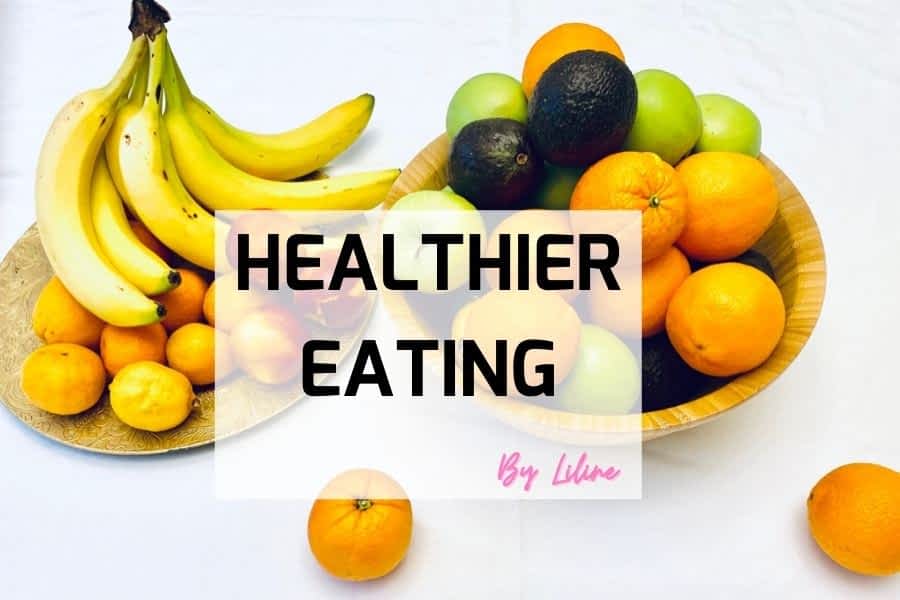 You need tips for healthier eating habits? This is a list of the best tips tested by me for healthier eating habits and weight loss.
This post gives you tips for healthier eating. It can really be challenging to start a new diet to lose weight or just to be healthier overall. In this post, you'll find tips to improve your relationship with food that can change your life. 
If you are on a diet to lose weight, you will not be successful if you think you are motivated. WAIT WHAT? Motivation is only temporary. It just won't keep you going in the long run. 
I am sharing a concept that is going to change your relationship with food and might also change your relationship with goal settings and success. 
These are the ultimate tips for healthier eating. If you are struggling to do this: live a healthier lifestyle and lose the extra weight, you must read this post. 
7 ULTIMATE TIPS FOR HEALTHIER EATING
Eating healthy is definitely challenging and extremely hard to maintain. This ultimate guide gives you straightforward answers on how to build a new relationship with food to practice healthier eating habits.
1. ASSOCIATE HEALTHY FOOD WITH POSITIVITY
Positivity is so important in life, it makes everything easier and better. You must believe it's true if you want to be successful in adopting healthier eating habits. 
Now one of the best tips you can hear today is this: You must associate food with positivity. THIS IS A MUST. 
Now let's think! What happened the last time you failed your diet?  This is probably what happened:
Your mind: Ewww, I do not want to eat vegetables again today, it's nasty, and it's boring. OMG, this burger looks so good and so much easier to eat. I am going to feel so good while eating the burger.
Well, guess what? Every time you think that way, you fail. 
This is why:  You associate healthy foods with negativity, so automatically, your brain will give you so many excuses to make sure you won't eat the healthy food. You need to fight your brain. 
Tell yourself that broccoli is super good because it will 

help you reach your long-term goals + you will stop you from constantly being disappointed in yourself!

Tell yourself that the burger you want is disgusting because it will 

satisfy you for literally 8 minutes

, but then you will feel like crap in the long term.
YOU ARE NOT ON A DIET; YOU ARE ON A HEALTHY EATING HABIT JOURNEY!!
This easy trick can change the game, Hun!
2. MAKE A PROMISE TO YOURSELF
Make the promise to yourself (write it down) that you will not break your healthy habit journey.
From now on, but also until the rest of your life, you will eat healthy every day. I am not saying that you can no longer eat pizza or burgers. 
I am saying that if you do, you'll do it in a healthy manner, maybe two slices instead of 4, and you will rearrange another meal to make sure you have the proper nutrient needed for health in your other meals. This is called BALANCE!
3. APPRECIATE SMALL STEPS
This is probably something that you heard repeatedly, but today, take the time to understand the power of small steps. 
PEOPLE THAT QUIT THEIR DIET (HOW THEY STARTED):
Example: Eating a meal of burgers including Coke, large fries, giant burger.
Week 1: Workout 1 hour a day, intermittent fasting, eat only vegetables, salads, and lean meat
Week 2: They quit!!!!!!
PEOPLE THAT MAINTAIN THEIR healthy habit journey (HOW THEY STARTED):
Example: Eating a whole meal of burgers including Coke, large fries, giant burger.
Week 1: Since drinking Coke or soda is a daily habit, they decide to replace soda with a healthier choice such as water, lemon water, a healthy smoothie, hand-pressed juice.
Week 2: Since they are used to eat large fries daily, they decide to eat fries only twice a week.
Week 3: They decide to eat fries once a week.
Week 4: They decide not to eat fries for 90 days and replace them with something way healthier with fewer calories.
What is this showing? Small steps are easier to maintain in the long run. Small steps also help us to build new habits that we can easily get used to!
4. DO NOT GIVE UP
You have to understand that 100% of your choices are going to be a battle. New you vs old you! 
It will be exhausting at first, but making the right eating choices will become a habit with time. 
5. THINK OF IT AS A GAME
It's the old you against the new you. Who must win? This is a battle you must win every time. Be one step ahead of the old you, and be proud every time you make the healthier choice! 
Smile at your new and improved choices!
6. ACT LIKE THE AMAZING YOU THAT YOU ALWAYS WANTED TO BE
From now on, every time you have to make a food decision, think about what the person you want to become would make as a decision. 
Would the healthy person drink soda or would (he or she) take a fresh juice full of vitamins and no added sugar instead? 
You need to have the mindset of a healthier person. Mindset means that you make the right choices for a reason and that nothing can take you away from that choice. You are determined and disciplined to make the right healthier choices daily. 
7. BONUS: GROCERY SHOPPING
Go grocery shopping after you eat! While you do groceries, remember that you are on a healthier habit journey and promise yourself that you will only make good choices that will help you reach your healthier goals.
AS A CONCLUSION, the best tips for healthier eating habits are the ones linked to your mind. Be careful of the way you think and because it impacts the way your act.
If you truly want to develop healthier habits, you'll need to constantly think the way the person you wish to become would think.
Mindset will definitely change and organize your life, and when it comes to eating, it must be number 1 on your list. 
This post was all about tips for healthier eating habits.