8 TIPS TO MAKE MONEY WITH BLOGGING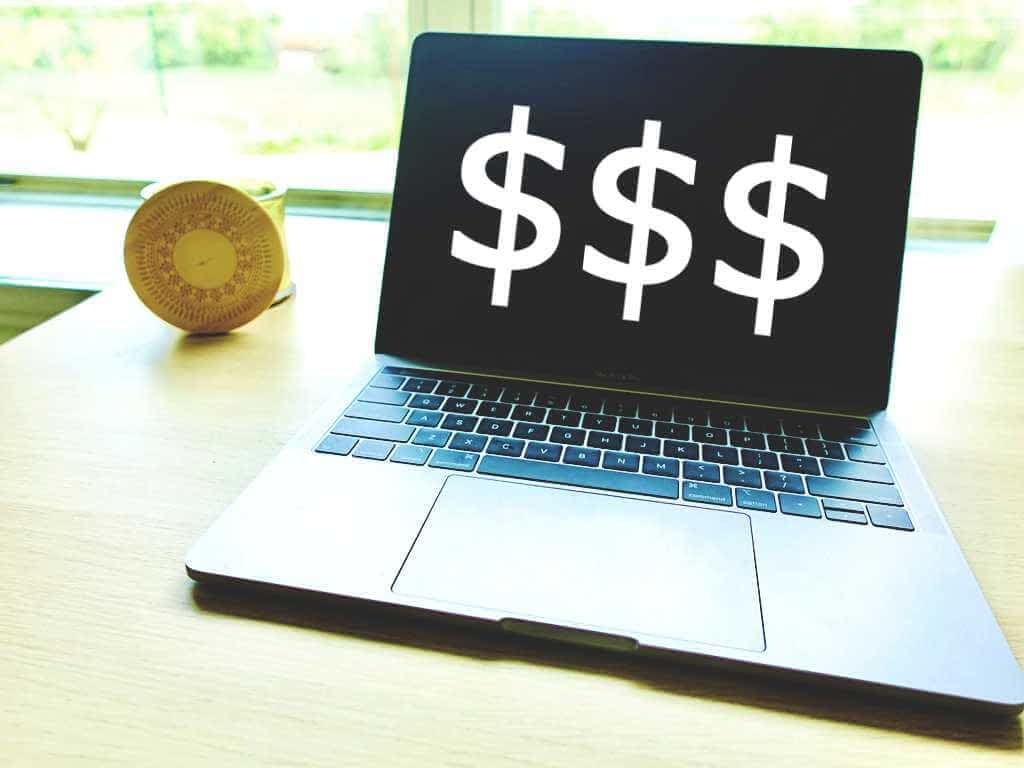 The blogging world is impressive, and there are so many fantastic opportunities you will discover as a blogger. Making money blogging is one of them!
If you genuinely give your heart and soul to your blog, it is completely understandable that you value your time and would like to make money blogging.
Maybe you started a blog as a game or a passion, and you've discovered that this could be your dream job or your side hustle. Well, this is a beautiful dream, and you should always go for your dreams!
Now let's be clear from the start. Making money as a blogger is not that easy. If you think that you spend a lot of time on your blog now, just know that you will need to triple that time if you want to make money with your blog.
Let's ask a few questions: Are you a go-getter? Are you NOT afraid of rejection? Do you have patience? Are you a serious blogger? You've answered yes to the above questions, keep on reading!
You are trying to make money from something that passionates you. How amazing is that? If you have the opportunity to make money from your passion, why wouldn't you?
At United Cuties, we want to support and encourage you every step of the way. The good news is, you'll find tons of ways to make money blogging.
In this article, we go over 8 tips to make money with blogging. 
CREATE AND SELL AN EBOOK
Writing and selling Ebooks can be a way for you to make extra money with your blog. Indeed, you could design and create a fantastic Ebook to share your knowledge with your readers.
In addition, you may have a story to tell that could actually help people reach a specific goal. You could create a motivational Ebook, a tutorial Ebook, a step-by-step guide, or an Ebook to help people in a particular field. You could also share your experience on overcoming a challenging obstacle in your life, studies or career.
When you create an Ebook, make sure that it will be meaningful to your current niche. Your Ebooks have to make sense with what you usually post on your blog.
For instance, if you blog about traveling, you may not want to write an Ebook about gardening. Remember to always think about your audience. Your readers should be interested in the subjects or topics you are providing in your Ebook.
Remember that you do not want your audience to be confused about your new digital product.
Now let's get real. Did you know that some bloggers earn 6 figures a year by selling Ebooks? One thing to point out here, making that much money with an Ebook requires a lot of marketing, a freaking good Ebook and content, and trust from your audience.
Ebooks can be a rewarding business. If you decide to create one, remember that you will have to design it as well. Designing your Ebook is the fun part! Make sure to spend time on your cover and summary as well. It's not just because you write an Ebook that people are going to buy it.
If you want your Ebook to sell at a minimum, you should:
Make sure that your audience will benefit from your book
Have an appealing Ebook cover
Spend a lot of time promoting your Ebook
At last, the content of the digital product is critical. Whatever is in your Ebook must be of value to your readers.

SELL YOUR WRITING SERVICES
Ok now, this is something you should write down. If you want to grow your blog or make money blogging, you will at some point need to write a blog post for someone else!
Did you know that you could write for companies or other blogs? You could do ghostwriting or be a freelance writer.
Yes, it's true. You could be making money by writing a blog post for other bloggers, companies, marketing departments, sales departments, and the list goes on. To be able to sell your services as a freelance writer, you will need to show examples of your work, so make sure that your website is up to date. Your active website will be a great way to show your talent to other bloggers or companies.
If you aim to write for other bloggers, don't hesitate to use their contact pages, leave comments, check their websites, and see if they are actively looking for freelance writers!
You could even create a specific page on your website explaining the services you offer to companies and bloggers. On that page, you could also add your detailed pricing!
Just remember that your time is precious, and you should never underestimate your talent!
At last, your blog is basically YOUR RESUME! If you want to have credibility, you'll need to be proud of your work and invite the bloggers you want to work with to visit your website!
ONLINE COURSES
If you love to teach, online courses could be what you need! Do you know that you can grow your knowledge, become an expert in a specific subject, and sell courses on that topic?
For instance, you can have valuable knowledge in a specific industry such a BAKING that could help individuals resolve particular issues such as not knowing how to bake BASIC Yoghurt cakes. Can you imagine? With your online course, you could help individuals become good bakers in a few hours. How amazing is this?
Making money blogging through online courses can be rewarding. If you decide to make and sell courses, take the time to learn about your audience first, then see what course type they would prefer.
The courses could be in the form of videos, slides, or a mix of both. Indeed, it will depend on what your audience is more likely to appreciate.
CREATE AND SELL DESIGNS AND TEMPLATES
If you love designing websites, templates, and logos, you should look into website or logo design. Did you know that you could live from your passion and offer services as a designer through your blog?
If creating logos and website designs for other bloggers or companies sound attractive to you, you should think about this opportunity.
Indeed, you will need to show proof that you can do unique logos and designs. For this, you will use your blog!
You will have to post your best designs on your website. You can even add a specific design page to your website to look more professional!
Besides, if you want to be hired by other bloggers or companies to be a logo or website designer, you will need to market your talent on different platforms.
If you are truly looking to make money blogging, selling your design talents can be a game-changer. This activity can open many doors for you, and it can be financially rewarding from the start.
DO WEBSITE AUDITS 
If you have expertise in search engine optimization, social media, accounting, or any areas that could help people with their websites, use this to your benefit! You could be making money by providing website audits to businesses and truly help them!
When you do a website audit in a specific field, you analyze everything that is hurting or could be hurting their website in the future.
For instance, you could provide a list of bugs that they could fix so that people would stay longer on their website.
Indeed, when you have a company, your goal is to be number one. You are working so hard to be the best in what you do. Some businesses are so busy with their projects and they do not have the time to learn about website optimization or social media.
Can you imagine? They are so caught up in their business plans or projects that they do not know how much their business could be blooming through social media!
What is excellent about website audits is that if you do it right, you could make your clients come back every few months! If they see results, they will come back and ask for more of your help! You will have more experience, and you might be able to adjust your prices!
As long as you provide excellent work and keep the best interest in mind for your clients, you could make money as a blogger.
One more thing, make sure that your website is on point. Your blog is going to be your resume. You have to show proof of expertise through your blog.
BECOME AN ONLINE COACH!
If you want to make that blogging money, you will need to help your readers. Did you know that your readers could benefit from your kindness, understanding, and life advice? How wonderful is this? You could make a significant change in people's lives.
Did you know that you could become a life coach? Now, depending on your location, your country, or state, you may need to get certified as a life coach first. But this is nothing if you reflect on how rewarding being a life coach could be.
Can you imagine using blogging to help people believe in themselves? Have one-on-ones with your readers to help them have a better life? Help them reach their goals? How amazing is that? Blogging is so not dead, and you have so many possibilities to grow from it.
Your time is valuable, so you will be able to set your own fees. Now, just remember that you want the best for your clients and you must provide the best services for them.
WELCOME AFFILIATE PROGRAMS!
Well, well, well! Let's talk about affiliate marketing!
First, you need to understand that it takes a lot of work to be accepted in great affiliate programs. Do not sign up for any affiliate programs that advertise products you've never tested, do not like, or do not care about.
Affiliate programs can be a great way to make money blogging. Just remember that you have to provide the best products for your readers. Do not start a blog because you want to make money. If you start a blog, it should be because you love blogging.
Please do not lose your credibility by reviewing something you never researched on or never used!
Why is that a mistake? If you advertise a product and people then try it, but that product is terrible, you will lose your audience. Indeed, if they buy the product, and the product is crappy, you will lose their trust!
Our advice on affiliate marketing is to do your research, do not promote something you dislike or don't know about. One more thing, always remember that you must have the best interest in mind for your readers.
HAVE GREAT CONTENT AND GAIN AUDIENCE RETENTION!
In this section, we will explain why having great content is the key to making money blogging. Having real content will give you credibility, and it will help you build trust with your readers. If you want to share your visions or knowledge, you need to speak from experience and do your research.
Indeed, you do not need to be an expert to talk about a specific topic. However, it is essential to be knowledgeable. You do not want to talk about cooking a turkey if you never tried it or never did research on it! That is basically the point.
What is great content? Having great content is sharing your views, experience, and research on a specific topic that will help your readers achieve a particular goal. Through your blog post, you want to teach them something.
One piece of advice from us, make sure that your readers never leave your blog without learning anything. Guess what? If they learn something new from your post, they will come back!
That's the beauty of great content. You will build a wonderful and supporting audience.
At last, you need the correct mindset in order to make money blogging.
AS A CONCLUSION, if you want to make money blogging, HAVE AMAZING CONTENT!
There are so many ways that you could be making money blogging. The key to making money blogging is to have the right mindset and the proper content. Please do not go into blogging if you are just trying to make money. It will be a waste of time for you.
Indeed, you go into blogging because you love blogging, sharing your visions, ideas and you love to blog. You should go into blogging because you want to help people and grow as a person. It shouldn't be just for money.
If you are a great blogger, money will find its way to your blog. You might want to start giving coaching lessons, sell Ebooks, do affiliate marketing, start website audits, create templates or sell online courses.
If you decide to make that blogging money, make sure that blogging stays your main priority and not money. Stay inspired by what you blog about.
BONUS: If you are a huge introvert, blogging may be a career that can make a big difference in your life, and it can help you build confidence.