6 BEST TIPS TO FIND YOUR NICHE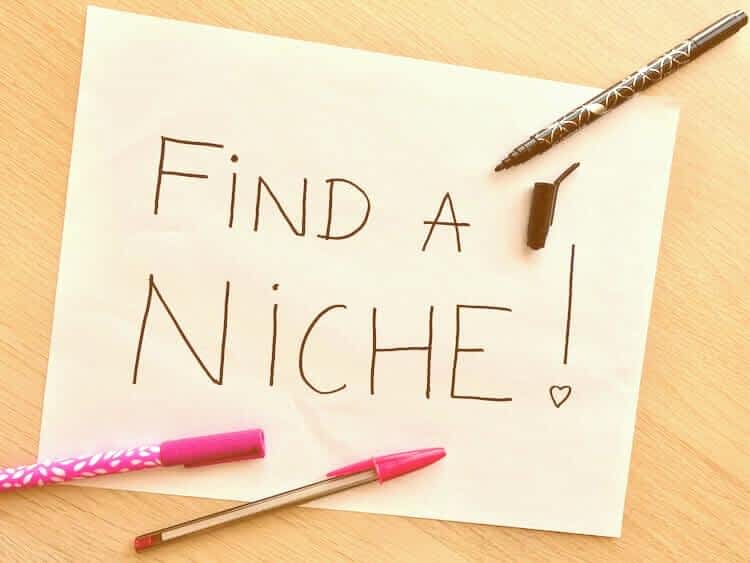 So, you've decided to become a blogger? Congrats! We are so excited to see that you want to discover the fantastic and rewarding blogging world! Since you've established the fact that you want to be a blogger, it is indispensable that you find the perfect niche for you!
Indeed, you know that you want to start a new blog or business, but you feel stuck because you do not have a niche yet. Don't worry! We can help you with this step by steps guide to find the right niche for you. Once you find your niche, don't forget to write a comment below. 
In this article, our goal is to guide you and help you find your niche! Do you know what type of blogger you want to be?
There are so many possibilities in blogging. You can start a mom blog and be a lifestyle blogger at the same time. There are no limits to blogging! Now, if you want to be successful, it's undeniable that you will have to find your niche!
Why? Well, a niche will attract a specific audience to your website. Having a niche will make you consistent, and it will help you become an expert in a particular subject. People will come to your blog to find answers to their questions.
Do you think that all of the rewarding niches are already taken? They might be, but guess what? The internet is vast, and there is a niche for everyone! Now the truth is that if you want to have blogging as your side hustle or career, you will need to be smart about picking your blogging niche.
Now, if you are ready, let's go over the steps to find the right niche for you.

FIND A NICHE BASED ON YOUR PASSION
When you start a blog, you want people to care about what you talk about in your blog post. Blogging takes a lot of time and effort, so you want to make sure that people read your posts. For that reason, having a niche is extremely important for any business and especially for blogging.
Now finding a niche is not that easy. First, you have to understand that it has to be something that you enjoy. If you start a blog or a company based on something you do not care about, your chances of success are really small.
For this reason, our first advice for you is to find a niche based on something that passionates you!
Remember that when you do something you love, you are more likely to succeed. Why? Because you will put your heart and your soul into your creations, businesses, and blog posts. As a result, you will feel fulfilled by your creations, and your business or blog will flourish.
This brings us to the next point of thinking about the future!
BEFORE CHOOSING YOUR NICHE, THINK ABOUT THE FUTURE
If you want to be a successful blogger and make money blogging, you need to find a niche that will grow with you and the internet.
For example, if your niche is "Women who have babies in April of 2021", you will probably lose many readers in 2022. Why? Because this niche will already be obsolete in 2022!
As individuals, we grow with time, and we need blogs and businesses to grow with us. Instead of choosing the niche "Women who have a baby in April of 2021", you could change your niche to "Pregnant women advice." By doing this, your niche will never expire, and it will grow and evolve with the years!
When choosing your niche, we encourage you to pick something that can grow and reach a specific group of individuals. Find a niche that will benefit your readers in different ways.
BONUS: If you want to do a personal blog, we still want you to understand that you will need a niche. Personal blogs, may not be as interesting to others as it is to you, so having a niche is essential. 
WHEN YOU THINK YOU HAVE THE RIGHT NICHE, DO SOME RESEARCH!
If you want to make sure that you have the right niche, you will need to research it. Find out if this niche is worth it. Know that if you blog on topics that no one cares about, there will be no searches for your post topics on the internet, and no one will go on your website.
Additionally, there are a lot of tools that you can use online for free to help you find the perfect niche. For example, you can use Google Trends. It is a great start to see if your niche is valuable.
DON'T BE TOO SPECIFIC WHEN PICKING YOUR NICHE
Once more, always remember that you will need to pick a niche that can expand in the future. Your niche will have to grow if you want your company or blog to grow. The internet is so big and so powerful, and it keeps evolving.
As individuals, we grow and change every day, and we expect companies and blogs to develop at the same pace. If you are too specific with your niche, you won't evolve, and your community will get bored.
The worse part is that you may also get bored of your niche and topics.
FIND A PROFITABLE NICHE
If you want to create a business or make money blogging, make sure that you pick a niche that can be rewarding for you. It would be rewarding through positivity, appreciation, acknowledgment, or even money. If you spend that much time and effort, you might as well be rewarded!
By the way, it is entirely understandable if you are trying to make a living from your passion. It's incredible to be able to do something you love and make money or be rewarded through it!
We wish you all of the success in the world. The more positive, passionate, and loving you are about your niche, the more likely you will achieve greatness!
YOU HAVE TO FIND A WAY TO RESOLVE ISSUES
At last, you need to have the goal to resolve people's issues! Individuals in your niche need help with different things. You will need to learn from them and find the best way to resolve their issues or help them with their problems. KEY KEY KEY!!!!
If you can resolve people's issues, truly help them and motivate them, you will drive so much traffic to your blog or business.
Finding a blogging niche is not the easiest thing to do, but it should be on top of your priority list before your blog goes live.
If you can help people in your niche, you will feel so much reward, and you will be so proud. Indeed, this is why a lot of mommy blogs work so well! They help other moms be the best moms they can be. These blogs can also be used as personal blogs or life blogs. In fact, some of the best lifestyle blogs started as mom blogs, and they became lifestyle blogs.
This is why blogging niches are essential, and you should continuously evolve with your niche! When you pick your blogging niche, make sure that it is a well-thought decision.
When you find the right niche, you will see that it's easy to find new ideas for blogging. You will become so creative! Remember that most blogs that make money started from a passion.
AS A CONCLUSION, your niche is going to be the base for your success. If you decide to go into blogging because you are passionate about sharing your vision and expertise, you have to blog on something you love! You have to be intellectually attached to your topic and your niche. This is the key.
Indeed, your niche has to be something that you will still appreciate blogging to and about 10 + years from now. This is how you will stay on top of your game and be a successful blogger.
If you are serious about blogging, you will need to spend time researching your niche. You do not want to write blog posts that people won't care about. If your readers don't care about what you write, they won't read your post! This is the truth that you need to accept!
YOU NEED TO HAVE A PURPOSE BEHIND THE REASON WHY YOU BLOG!
It's ok to blog about yourself from time to time, but remember that readers would prefer to read a blog post that will help them rather than reading about YOU.