HOW TO FIND A DOMAIN NAME?
We are so excited to see that you are ready to make a significant change in your life and you want to try blogging. We will share with you tips and tricks to help you become a successful blogger. 

In this article, we will go over the steps and tell you exactly what YOU need to know to find the perfect domain name.
Before moving forward, let's ask a few questions. Did you ever feel like there something missing in your current situation? Maybe you are unsatisfied with your job, studies or life, and want to do something meaningful. Blogging can bring a lot of meaning to your life. Sharing ideas, visions and helping people to discover amazing things can make a huge difference in your life.
Welcome! You clicked on this article because you are ready to take the next steps and build a website that may change your life! You want to start your website to blog or sell stuff, and you need to pick a domain name.
Before you do anything, read this article so that you don't make common blogging mistakes!
We want you to think twice before you make your blogging decisions! Now let's go ahead and get to the heart of picking a domain name.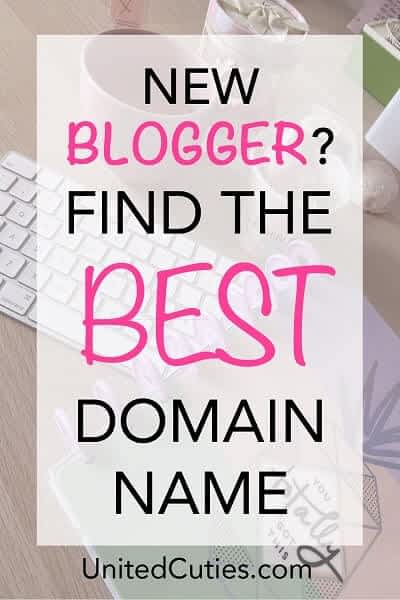 What is a domain name?
This is a great question! Don't be embarrassed if you do not know what it is! Trust and believe! Most people do not know what a domain name is. They might tell you it is the name of French Hotels!
Instead of giving you the domain name definition that you probably won't understand, we will explain what a domain name is by using an example!
Example: You are on the internet and want to have your own company and a website. When you create your website on the internet, you have a unique address for the website. No one other than you on the internet will have that same address.
The address on the website is made of tones of numbers 1.1111.111…., and no one will remember these numbers! To make it like way more straightforward and make sure that people can find your website easily, you go on the hunt for a domain name.
This domain name will show on the internet instead of your unique IP address (i.e., 1.1111.111…). Just like your IP address, your domain name is unique, which means that no one can have the same domain as you.
Our goal here is to make it easy for you, so we will not try to get too computer smart. Don't worry. We got you!
So what do domain names look like?
Look at the picture below:

This is our domain name!
You can also think of it as "thenameofyourcompany.com."
Step 1: Do you have a niche?
Yup, you probably already know, but having a niche is essential. Make sure that the domain you pick also fits your niche! You can't have a domain name called BESTSHOESEVER.COM and only a blog about food. This would be a Big no-no! The first advice is to be mindful and take the time you need to find the right niche for you.
Step 2: Once you have a niche, did you know that you need to think about the future?
Yes, once again, you do not want your niche and your domain name to be too restrictive. You never know; a topic that works today may not work tomorrow, so you do not want to be too restrictive in your niche.
Step 3: You have decided on a domain name. Did you make sure that the domain name you want is still available?
Guess what? Domain names are not duplicable! You need a unique domain name to start a blog. If you want to be making money blogging, you will need to start by researching to see if the domain you want is taken. Don't worry. You can use a domain name generator, and there are lots of websites that can check if the domain you want already exists. We'll put a list of great websites that can help you find a domain name!
BONUS: Does my domain name has to be the same as my company name?
The quick answer is no. It does not have to be the same.
You can have a domain name completely different than your company name. Is it a good idea? Well, it depends. It is easier for people to remember your company if the name and the domain name are the same. It is always one less thing to remember.
However, if your company does many different things, you may decide to have a company name that is different from your domain name.
Why? Because you may want to have a specific website to talk about shoes and another website for your other brand that only sells protein bars! That is totally fine.
So if you plan to open a company for your blog, which you should do if you plan on making blogging money, you should always think about the future.
Where would you want to be in a few months with your blog or website? What are your goals and expectations? Based on this, you can decide if your domain name should have the same name as your company.
Our Recommendation: Pick a domain name that ends in .com or .net rather than yourcompanyname.yourhost.com.
List of Domain Name Search:
AS A CONCLUSION, your domain name will reflect you're your blog, your company, your personality, your ideas, and your creativity. We want you to remember that you should not pick your domain name out of the blue. It should be a well-thought decision, and you should also think about the future and your growth before deciding on the name.
Another essential piece of info we want to share is that it will cost you money to buy a domain name. Unless you are sure that you will be making blogging money, we recommend not to spend too much money on your domain name.
If the perfect domain name for you is already taken, or if it's on sale for $100.00, we recommend that you keep shopping around. You can also find a similar domain name using alternate words.
In truth, it can take a long time to find the perfect name. Just make the right choice. Once you have it, you are stuck with it.
We're happy to help you on your journey, and we wish you the best in your website or blogging dreams.