HOW TO FIND A WEBSITE HOST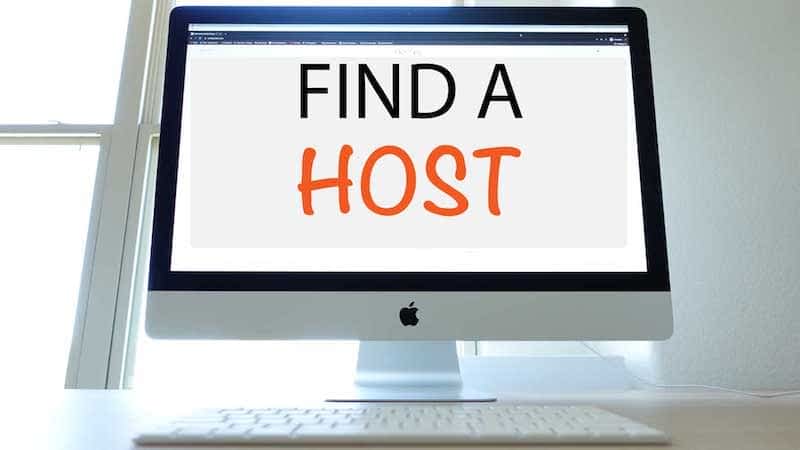 You've decided to start a blog. That's great! You may feel overwhelmed with the starting steps, but do not worry because we are here to help. 
HOW TO START A BLOG?
Everyone keeps saying that starting a blog is not hard, and it's true! You just need a little patience and a little research. You will also need to know what your future goals for your blog are.
You are ready to create your website and start your blogging journey. Now, there are some crucial decisions that you will need to make from the beginning. Please read this article to make sure that you make the best decision for your website. 
In this article, we will explain what WEBSITE HOSTING is, and we will go over the steps to find the right host for your blog or website. To be the best blogger you can be, you need to set up your blog correctly. 
SET IT UP FOR SUCCESS!
Having the right host for your blog will be really important for the future of your blog. 
Now before we move forward, let's give a straightforward definition of a HOST.
EASY TO UNDERSTAND HOST DEFINITION: 
A HOST is a platform that will house your website! 
Now that you know what a host is, you need to put your website on a specific platform! Let's go over the 2 different types of hosting platforms:
TYPES OF HOSTING:
HOSTED:

A hosted website is easy to recognize. The domain name will look like this:

thenameofyourblog.thenameofyourhost.com

. When you look at this domain name, you will see that it will be easy to see which company is hosting your website. Usually, we do not recommend a hosted website for bloggers.

Is a hosted website good or bad

? Hosted websites are great; however, know that there are restrictions that come with having a hosted website. So always do your research before you pick a host. 
If you plan to make money from your website or blog in the future, please go to the next point!
SELF-HOSTED WEBSITES:

Let's keep it simple. If you want to make that blogging money, you will need to have a self-hosted website. Your domain name will look like this: thenameofyourcompany.com. So much better right? 
Hosted and self-hosted websites are both great. Now, to keep it simple, if you want to start a blog and make money blogging, you'll need a self-hosted website Period! The great thing about self-hosted websites is that your domain name will look more professional. 
Now that we got this out of the way, let's talk about the options and steps to find your HOST:
Do you already have a domain name?
YES: If you have a domain name, then what you need to do next is to find a self-hosted platform! You already have thenameofyourcompany.com, so your next step is to pick a self-hosted platform.
NO: Great! You can make a choice. Do you want a hosted or self-hosted website? For a hosted website, you find the hosting platform, a website name and build your website all at the same place. For a self-hosted platform, you will find your domain name first, then find the best platforms for self-hosted websites based on your needs. This takes us to the next point.
HOW TO PICK A HOST:
When looking for a host, there are always essential characteristics you should look at before making your decision. Let's go over different these characteristics for your website host:
The first thing you'll need to do is find a list of different hosts and

compare the fees

. Based on your current income and how much you are willing to spend on a host, you should be able to narrow the list.

See which host offers a website that is the most

stable

. Basically, you

do not want to have a website that slows down

every day around 4:00 PM because the host is doing updates on the platform. 

Now let's talk about

security

. This should be extremely important for you and your website. You need to

compare the security features

of the different hosts.

Daily backups

, what are those? If someone hacks your website and deletes your content, daily backups could save your day! If your host provides daily backups, you will be able to go back to the website as it was the day before you got hacked! Daily backups are here to help you be more

productive and safe.

Take your time, and look at the

features

that the hosts offer. Some may be better than others, and some may have features that you will never need! We recommend that you make a list of indispensable features you want to have and that you

go over your list when comparing hosts

. 

It is always essential to think about speed for a website. Please

don't be the one with the slow website

! When people go on your website, they want to find answers fast. If your website is slow, you will have a hard time retaining your readers. 

Some website hosts are so great that they have different themes that you can use for your website. If you are new to blogging, the fact that your host offers free themes can be a game-changer for you and make your life easier. It can also help you build your website faster. Now, remember that free themes are usually not the best, so we still recommend that you pay for a nice website theme. 

At last, you should always be looking for

customer service

. If it is your first time creating a website, you might need guidance when features do not work correctly. One great piece of advice is to pick a host that has good customer service. 
LIST OF GREAT HOSTS:
AS A CONCLUSION, finding a host is not hard, but you need to do some research. Please do not make a hosting decision without researching it first. Finding the right host is an important decision for your blog! You should always think about your blog goals before you pick a host. 
Once you make your decision, compare hosts and see what would be the best fit for you! Just know that you should treat your website as if it was your best friend! You want the best for your website!
Indeed, if you are trying to make blogging your side hustle or trying to one day make a living from blogging, you will need to have a self-hosted website. PERIOD!
Finally, when you pick a host, have the future of your blog in mind. Find the best hosting platform for your blog goals. The host will be the base for your blog. Some hosts are cheaper than others and still offer many great features, so really shop around based on your blog vision and needs!